Proposition
WANTED
Someone to persuade Kristian Alfonso to eat an entire cupcake
REWARD
Five (5) American dollars This is not okay: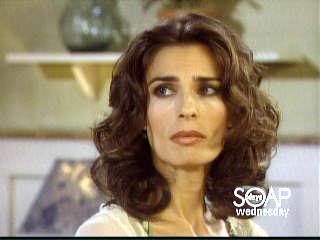 It's widely said that once an actress reaches a certain age, she must choose between her ass and her face. Kristian Alfonso chose her ass over her face, her arms, her chest and probably her toes. A person's neck is not supposed to look like that.
What makes this all the more tragic is that she used to be so beautiful. Beyond beautiful. Fancy Face was really the perfect nickname for her:
Seriously, was she not just the prettiest in the universe? She so was.
She started losing weight rapidly in the days of the Not Hope/Princess Gina/OMGWTF storylines when the ultra thin look came into fashion and her weight was allegedly mocked by the oh-so skeevy Robert Kelker-Kelley. I would probably act out dangerously after prolonged exposure to RKK. I think excessive shopping or perhaps drug use would work, but Kristian opted for some sort of eating disorder that sent her from gorgeous to Skeletor
So that is where you come in, gentle reader. The person who gets Kristian to eat an entire cupcake, with lots of frosting, perhaps from Magnolia bakery, and maybe with sprinkles, gets five dollars plus a reimbursement for the cost of the cupcake. Try to choose a pretty looking cupcake so that the thought of eating it will be more appealing.
-Promising Ingénue