All together now!
One of these things is not like the other
One of these things just doesn't belong
Can you tell which thing is not like the other
By the time I finish this song?
General Hospital is all about the random pairings lately and they disturb me. Let's begin with the most sick-making
What goes on in the minds of Bob Guza and Jill Farren Phelps? "We have a totally critically acclaimed teen character who pretty much owns the Emmy this year and has gotten us some of our best press in ages. You know what would make her even more awesome? Throwing her in with the mob!"
I am just trying to understand their thought process
TEENAGER + GREASY OLD MOBSTER WITH A TASTE FOR YOUNGER WOMEN + BRAINDEAD MURDERER = AWESOME
MOB STORIES = LOW RATINGS
LUKE AND LAURA STORIES = HIGH RATINGS
MOB STORIES + LUKE AND LAURA STORIES - MEMORY THAT LAURA HATED THE MOB - MEMORY THAT LULU IS WHO LAURA IS SINGING TO IN THE FAMOUS "LULLABY" ANTI-MOB SCENE = HIGH RATINGS
I am also trying to understand why Lulu looks like Melanie Griffith in that picture, but that is a story for another time.
It seems like any time there is a new female character, they get thrown to the wolves known as Sonny and Jason. Which, fine, if they want to sacrifice useless characters like Courtney and Sam to the mob, so be it. But Lulu? Like Lulu doesn't have enough stories on her own, what with the Georgie/Dillon triangle, the fact that she is trying to clear her mother of murder, the fact that she has bonded with Tracy Q. No, let's just ignore that and throw her into mob hijinks. And you'd think that someone, somewhere, would point out that her presence in scenes does not make Jason and Sonny look any younger. In fact, it makes them look extra creepy. On any other soap in the world, Lulu chilling with murderers would be a cause for alarm, but here it is totally okay.
And then there is this: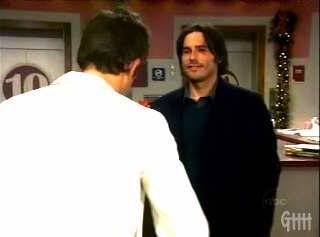 I'm sure your first thought, like mine, was "Oh, that dedicated and delicious Dr. Drake, always taking time out of his busy schedule to help derelicts get treatment and a nice shower. Swoon!"
But then you learned that Patrick and Professor Pete are actually Best Friends Forever! What the hell? If they were going to bring on a friend for Patrick, can't it be someone who actually showers every once in a while?
Or perhaps someone who has an aim in life that does not include flirting with young college students? Or maybe someone who doesn't have an "EWWW! Girlfriends are icky!" outlook on life. Because from where I am standing, this person is, in the words of Dionne from Clueless, to' up and causing Patrick's stock to plummet. Okay, that last part is a lie. Patrick's stock could never plummet. We love him.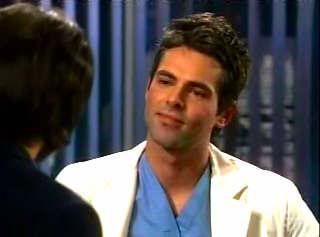 And I love him with Robin. Love them. Like, I am actually this close to becoming an annoying shipper for them and learning photoshop to make collages with a cheesy song playing in the background. This close.
The last group that is totally pissing me off is Max, Milo and the camera.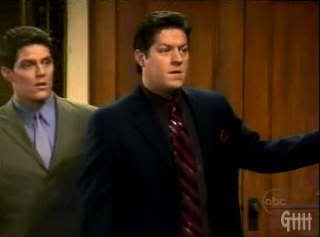 Seriously, my life is enriched in no way, shape or form by having these people onscreen. Why can't we, oh, I don't know, devote their screentime, to, let's say...more Patrick and Robin? Alan and Monica? That would be fun. Bobbie, perhaps? Mac? ROBERT FUCKING SCORPIO? But instead, it's these two goobers who are supposed to be adorable comic relief in the vein of Esther on The Young and the Restless, but they suck and I see them entirely too often and I hate them.
-Promising Ingénue