An Open Letter
Dear Farah,
I think you're mostly adorable. Truly. You stand out on Days because you're not a blank-eyed blandster but have a certain element of pep to you, kind of like Alison Sweeney. And it's pretty much awesome, except when your character does ridiculous things like lie about the paternity of the baby your husband had with his ex-girlfriend/soulmate after they had sex in a barn that neither of them remember. That's kind of foolish, just because Mimi is going up against Belle and she never loses. Ever. Yes, her father is a proud graduate of Joey Tribbiani "Smell The Fart" school of acting and her mother was once possessed by the devil and she was once sold on the black market by her older sister, but that doesn't matter: she's perfect and will always win and lying to Shawn (who, let's face it, is no great shakes) is just going to make life miserable for Mimi in the long run.
That's totally not why I'm writing to you. I'm going to try to phrase this as gently as possible, because it may hurt to hear, but please know that I am coming from a place of love.
Girl, you're not right.
Who do you let dye your hair? And why do you let them apply highlights with a paint by number coloring book?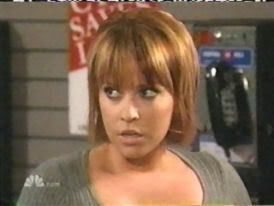 Have you done something to someone in the wardrobe/hair/makeup department? Like, have you run over their puppies while sleeping with their spouse and littering? Because they hate you. No, really, they hate you. I hope that doesn't come as a shock to you, but they do. Hate you.
Remember when Mimi went to the hospital so that a surrogate could be implanted with her embryo? I don't blame you for wanting to look your best--I would want to be similarly fashion forward in that situation--but isn't less more?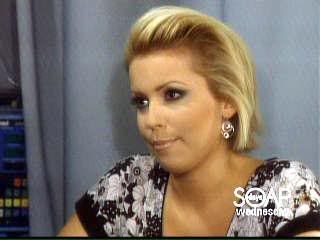 The brassy hair. The raccoon eyes. The cleavage. You looked like...You looked like Joan Van Ark.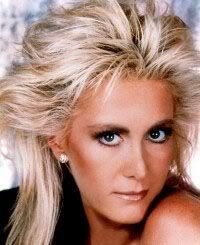 And then when you got the razored ends? What the hell was that?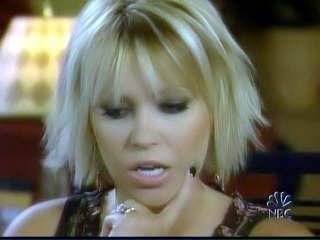 I'll tell you what it was: tragic.
Is a simple bob really too much to ask for? I think you'd look wonderful with a nice bob, maybe with some bangs, and minimal makeup. And it would probably get you an in with the Bradys, too, because they don't want their precious Shawn D to be saddled with a hooker wife.
(And while we're on the subject: why choose Shawn over Philip? I mean, yeah, Philip only has one leg and is played by a Real World alumnus, but still).
Just think about it, okay? And the next time someone attempts to give you eye kohl and takes out a bottle of peroxide, follow Lexie's lead when she was blackmailed by a mysterious person: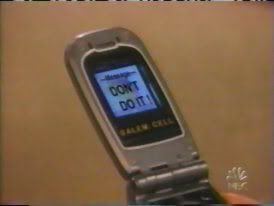 Yours, Promising Ingénue
-Promising Ingénue