Reason #1,563 Erica Kane Is Better Than You
...she's always dressed to impress. Always.
I have a feeling that if your autistic stepdaughter were in a catatonic state after being assaulted by a pervert who was then killed by her estranged husband who is no longer faking his mental retardation that you would wear something like sweatpants, or jeans and your hair would probably be a mess because you'd be too distracted to tease it within an inch of your life. Not our Erica! Ms. Kane realizes that the situation calls for a silk halter top (all the best to show off your freakishly toned arms) and big hair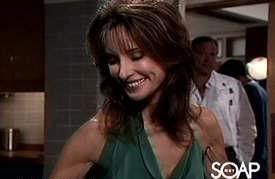 Similarly, Erica realized when her son was presumed dead in the ocean off of the Pennsylvania coast that she really loved him, despite having thought she aborted him in 1973. What better way to convey her love of her newfound son than dress up while searching for him on the beach? That proves that she doesn't just love him a little, she loves him a whole black cocktail dress and sparkly necklace worth.
Now that's family love and devotion!
-Promising Ingénue