Friendly Advice
I know that I complain daily, if not hourly, that the writing staff at General Hospital is comprised of a bunch of fools who cannot, for the life of them, create plots that are both compelling and logical and who refuse, for whatever reason, to dip into the show's long and rich history and use characters to their full advantage. I'm becoming like a broken record.
But while I was watching last night and I saw Jason, Hitman/Show Hero #2, asking Sonny, Mobster/Show Hero #1, why he just couldn't murder someone and Sonny telling him that it would be too messy, I realized that they can't help the ridiculous stories they come up with: they have some sort of virus that has broken their brain. It's the only logical explanation!
Now, I don't want to be the girl who makes fun of broken brain people! That is too cruel, even for me. So I decided to help them all out by giving them the official NOT! list.
NOT! A SEXY AND APPEALING HERO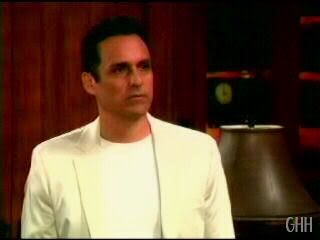 He has worn that outfit on more than one occasion. Why has no one told him that he looks like the ice cream man? Let's just put this out there, okay, writers: you can't be the hero of a show if your job requires that you kill people and if you shot your wife in the head while she was giving birth to your son. No. You just can't.
NOT! A CHARISMATIC AND MORALLY RIGHT HERO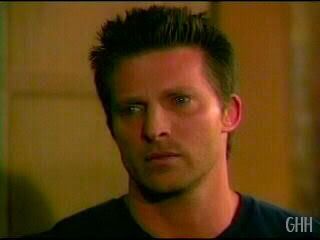 In order to be charismatic and worthy of the "leading man" title, one must do more than blink and stare vacantly. One must also not portray a man who murders people to make a living.
NOT! A SELFISH BITCH
It's 2006. Women are allowed to work outside the home, okay? Alexis is not evil for wanting to be successful, and she's not evil for wanting her oldest daughter to be more than a mob moll, and she's not evil for being angry that her oldest daughter had sex with her husband and she's not selfish for wanting to deal with having CANCER in her own way, and she's not insane and neurotic for wanting to keep her younger daughters out of the mob world, especially considering that one of them has already been kidnapped and she's not even seven.
NOT! A GOOD HEROINE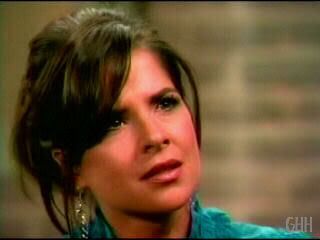 Shouldn't a heroine have some sort of, like, good qualities? Because Sam doesn't. She's physically incapable of living without her brain damaged hitman boyfriend. She screams and cries ALL THE TIME. She's also irrational and prone to fits of anger that have nothing to do with anything and she's incapable of taking responsibility for her own actions and she had sex with her stepfather and then walked around town in her dirty sex clothes without showering and, seriously, that's gross.
NOT! DESERVING OF THE ABUSE THE WRITERS GIVE HIM
I'm going to say this once: Rick Hearst is so much better than your wack ass storylines and character assassinations. The man has been on almost every single soap opera ever and survived playing a character named Whipple on The Bold and the Beautiful and he manages to play the most poorly developed character on General Hospital and play it well. I know y'all love Steve "Blink" Burton and Maurice "Stammer" Benard, but you have an actual, quality actor right here and you insist on screwing him over royally for reasons that are just beyond me.
NOT! THIS SHOW'S VERSION OF DR. BAILEY FROM GREY'S ANATOMY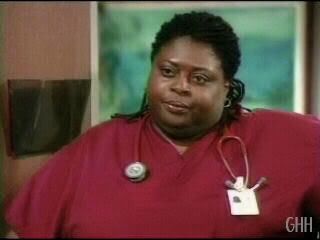 Just no.
NOT! TERRIBLE FATHERS
I don't care how many times you try to tell us that Luke Spencer and Robert Scorpio are awful. They aren't. Robert loved Robin more than anything in the entire universe and there are clips to prove it and it irks me more than I can even say that you ruined that relationship.
NOT! IN POSSESSION OF AN UPPER LIP
Okay, so that's not something that you foisted upon me, but it bothers me all the same. Ted King is very handsome and has charisma to spare (so it makes TOTAL sense that you wasted his talent twice), but he has no upper lip to speak of. There are times when he's onscreen when it's all I can think about.
NOT! IMPOSING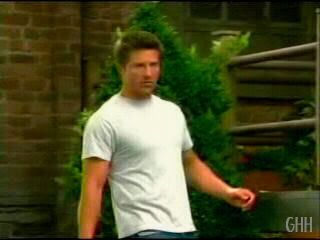 Is he...sashaying? All I can think of is the Jets song from West Side Story.
***
I hope that helps! Because the above is true, for real and for serious, no matter how many times you try to tell me differently. If you work off of that list, you might actually wind up with a quality show. Imagine that! Good luck with the broken brains!
Screen caps, as always, are courtesy of General Hospital Happenings Two
-Promising Ingénue