Um, Ew: Electric Boogaloo
You know, no matter how many times the writers of The Young and the Restless try to convince me that Jack Abbott is some sort of criminal mastermind or try to make me feel anything other than boredom over the murder OR WAS IT?! of Carmen Mesta, I will not cave. I just won't. Not until someone tells me why anybody on the show or in the viewing audience should feel anything other than disgust for Gloria.
Let's break it down:
Jack Abbott--> Being implicated in father's mother's insane attempt at bolstering family company and being angry about it + taking advantage of a mentally ill man who routinely screwed him over in the past + not falling all over himself with joy when former stepson has an affair with his ex-wife = EVIL
Carmen Mesta--> Eternally Boring + Habitual Husband Thief + Wack Dresser = HER MURDER (OR WAS IT?!) MUST BE SOLVED AT ANY COST, ANY COST, DAMN IT
Gloria Fisher No I Will Not Call Her Abbott--> Ruins husband's company in bizarre scheme to piss off stepchildren + Accidentally burns child and kills random woman + Gold Digging Morally Bankrupt Whorishness + Creepy relationship with son Kevin - Any sort of moral compass = GOOD CHARACTER
Bitch, please.
While watching Gloria dress like a man's late wife in order to get him to like her, I was overcome by a case of the vapors. I asked myself aloud "What the hell am I watching?" And I still don't know.
Gloria going all Vertigo on Will Bardwell could have been somewhat comical if Joan Van Ark were still in the role and it was a hilarious and wacky Knots Landing reunion, but Judith Chapman can only play devilish, unhinged and devilishly unhinged.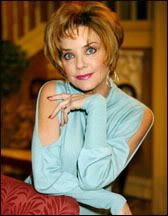 And she BUGS HER EYES OUT WILDLY in an attempt to convey anger, sadness, horror, despair, happiness and confusion, while her neck veins appear startlingly obvious (as in, they could touch you) whenever she raises her voice above a whisper. Which is rare. She only whispers when she is mourning her dearly departed husband and wallet, John. Which, again, is rare.
I am so grossed out. So grossed out that I can't even bring myself to wonder how it is that Jana has had even more careers than Josh Madden on AMC, or even celebrate the fact that Christel Khalil has been onscreen for about thirty seconds total since her return. Because as long as Gloria is on this show and Ashley Effing Abbott isn't, I will be angry, damn it.
-Promising Ingénue